Top International Award For Spanish Resorts
19 September 2018
Two Macdonald Resorts have received international industry recognition from TripAdvisor for their continued and prolonged excellence in the hospitality industry.
Macdonald Leila Playa Resort and Macdonald La Ermita Resort have joined the Hall of Fame, the top recognition from TripAdvisor. The award, which is based directly on customer feedback, is given to businesses from the hospitality sectors who consistently deliver exceptionally high levels of service for at least five consecutive years.
The award marks the first overseas award for Macdonald Hotels & Resorts, which owns a further two Resorts across Spain including Macdonald Doña Lola, Calahonda and Macdonald Villacana, Estepona, and recognises the continued quality of service on offer across the hotel group's Spanish offering.
The awards are open to hospitality industry businesses and is only received by the top 10% of businesses across TripAdvisor that have consistently achieved great reviews. To be eligible businesses must have maintained a four or five rating on TripAdvisor, have a minimum number of reviews and received a Certificate of Excellence for five consecutive years.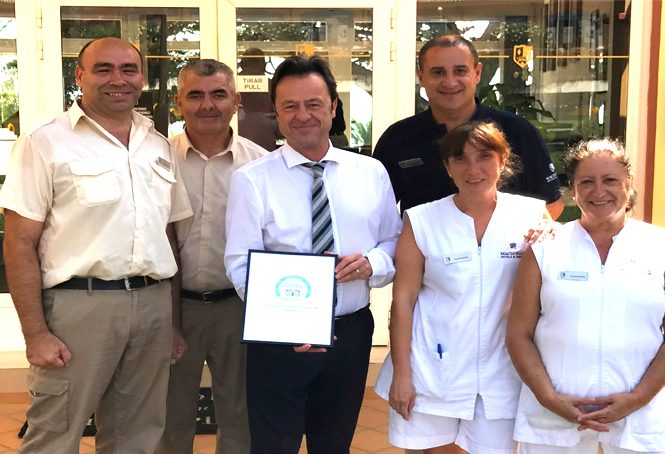 Additionally, three other Macdonald Hotels in the UK received the Hall of Fame award including Macdonald Norwood Hotel, Aberdeen; Macdonald Windsor Hotel, Windsor and Macdonald Leeming House, Penrith.
General Manager for Macdonald Resorts in Spain, Sebastián Urquía, said: "It's a huge honour to be one of the very few businesses across the globe to be recognised by TripAdvisor's Hall of Fame.
"Receiving industry-wide recognition for our consistently high levels of service we provide across Macdonald Hotels & Resorts is a testament to the hard work, attention to detail and quality of customer service provided by our staff. Macdonald Hotels and Resorts are committed to providing excellent service and this accolade represents a seal of approval from our guests."